Author: Stacey Barr

If you're measuring and tracking anything in your business already, it's probably the basic financial measures, like profit and revenue. But I'll bet you're not even getting the most you can out of these measures!
Chances are, you're only looking at revenue in your profit and loss statement or sales report. These are just tables really, and only showing you simple figures like last month's revenue, or last month with the same month last year, or your year to date revenue.
Sure, these snapshots are important to keep track of, but there is so much more you can learn from the revenue data you already have.
The key to getting these hidden insights out of your revenue data is to graph your revenue over time.
Don't just look at the profit and loss statement. Don't just look at last month compared to the same month last year. I mean, how do you even know that the same month last year was normal? Two points of data can't really tell you anything you can trust.
But when you graph a result like how much revenue your business earned, and graph it over as long a period of time as you can, these graphs will show you patterns and insights you *can* trust.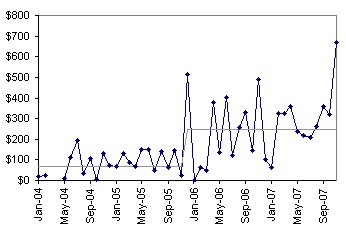 Take for example this graph of revenue per hour worked (this is my ROTI measure, explained in the article How To Reduce Non-Profitable Working Time), plotted over almost four years. It's real data (it's my own business, in fact). This graph tells us two very interesting things about how my business earned revenue over this period:

Insight 1: Something very significant happened in January 2006 to move ROTI from an average of $70 per hour to $249 per hour, almost overnight.

Insight 2: Whatever it was that happened in January 2006, it made revenue much more volatile.

What happened in January 2006 was a shift in my business model. I moved from hourly consulting rates to fee-based service packages. Instead of charging per hour worked for my clients, I started running public training workshops, packaged consulting programs and selling information products. And, I launched my business online. Big impact, hey?

But even though the business is earning more income, it also became more volatile. Revenue started coming in big lumps instead of a steady stream. And this makes cashflow more of a challenge.

So the graph of revenue per hour worked, or ROTI, has shown me the true impact of changing my business model, which is a 356% increase in earnings. And it's shown me the next improvement priority, which is to reduce the lumpiness in how my business earns its revenue. We all want reliable and predictable cash flow, don't we?

I could never know this about my business from a profit and loss statement alone, or by looking just at individual monthly revenue values. Only the graph can show me this, so quickly and so succinctly.

Aren't you curious to uncover the insights hidden in your revenue data?

TAKE ACTION:
Use your revenue data in a new way: instead of only looking at the monthly figures in a table or profit and loss statement, graph the last 2 or more years' of monthly revenue figures and see what story it tells about your business. And let me know what you discover!

About the Author:


Stacey Barr is a specialist in performance measurement, helping micro and small business owners to move their business results from where they are, to where they want them to be, using powerful, transformational measures. To grab your free copy of Stacey's Special Report "7 Clues to Measure What Matters In Micro & Small Business", visit www.staceybarr.com/smallbusiness.

Article Source: ArticlesBase.com - What Else Can Your Revenue Tell You?

------- there is a graph on this page http://www.articlesbase.com/management-articles/what-else-can-your-revenue-tell-you-875152.html